TS Construction
Bemco Turboshock chambers include a 304 Series stainless steel welded inner liner with high temperature fiberglass insulation. No asbestos is used in chamber construction.
The chamber outer case is fabricated from cold rolled steel finished in Bemco Blue. Chamber doors feature dual gaskets to assure a vapor tight seal inside each compartment when the chamber is in operation. The hot chamber door includes a cam type latch and the cold chamber door is normally sealed with tool access clamps to limit operator entry, reducing the need for defrosting.
The internal rotating transfer door and the door load support retaining bars are fabricated exclusively from stainless steel. The door rotates 180 degrees and then reverses to allow electrical connections and fluid connections to product fixturing and baskets.
The transfer system features electrical access door open interrupts as well as, transfer door position indicators, limit switches on the rotation system, and a time delay sensor set to alarm on transfer failure.
The electrical control panel is hinged for easy access.
---
Conditioning
Chamber air in both the hot chamber and the cold chamber is recirculated by a high volume, stainless steel blower drawing air in on the right side of the workspace and discharging on the left. Air flows through a diffuser baffle to create a uniform high velocity in excess of 10 feet per second (600 feet per minute) around and through your test objects.
The air circulation blowers are driven by externally mounted TEFC motors with dual ball bearing races, connected by large diameter extended stainless steel shafts. Fast-response, open type, heaters behind a radiation baffle raise chamber temperature in the hot compartment.
All electrical wiring meets the United States National Electric Code. UL and CSA approved components are used where possible.
---
Cooling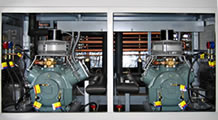 Mechanically refrigerated systems include a proportionally controlled cascade, two compressor, refrigeration system utilizing modern refrigerants to cool the workspace in the cold compartment. The system includes automatic hot gas bypass and suction cooling unloading as well as Bemco's exclusive, high performance coaxial cascade heat exchanger. All systems are water cooled, have thermal and current sensors on each compressor as well as numerous safety and reliability protection systems for dependable operation. Mechanical systems require no expendable refrigerants to recover to specified conditions.
For liquid nitrogen (LN2) cooled systems, chamber temperature is reduced by a proportionally controlled liquid nitrogen injection system utilizing both a control solenoid and a series mounted safety solenoid to positively interrupt nitrogen flow in the event of a malfunction. A relief valve and a line strainer are provided for dependable operation. A self-sealing vent system with an attachment coupling for remote piping by others removes expanded nitrogen from the workspace.
---
Controls
Each Bemco TS2R chamber is furnished with a two channel microprocessor based, programmable, 1/4-DIN, solid state, 256-step ramping controller which includes a 4-line LCD interface display and a large red LED display. This instrument is pre-programmed to control both the hot chamber and the cold chamber automatically. Temperature inside both chambers is sensed in the return air (after the load) by precision thermocouples. An RS232 and RS485 interface is standard.
Heaters are interlocked with a separate heavy duty power contactor and a factory preset high temperature safety control.
A microprocessor-based, FM Approved, high temperature safety control is standard on all hot chambers and a separate FM Approved low temperature control is standard on all liquid nitrogen cooled chambers.
---
Fixturing, Square or Round


TS2R0.7 and TS2R4 Turboshock chambers are furnished with two cubical, liftoff type, perforated stainless steel baskets, one for the hot chamber and one for the cold chamber. They quickly reverse roles once the Turboshock system is set in operation. The B12147 Basket fits the TS2R0.7 and the B242412 Basket fits the TS2R4. These baskets are supported by two convenient slide-in clips mounted on the surface of each door side. The illustration on the far left shows the door removed from the chamber with two B12147 Carrier Baskets in place.
TS2R1.2 and TS2R6 Turboshock chambers are furnished with two larger, half round, liftoff type perforated stainless steel baskets, one for the hot chamber and one for the cold chamber. The B12189R Basket fits the TS2R1.6 and the B243216R Basket fits the TS2R6. These baskets utilize the same clips as the cubical type of basket and they will mount in the TS2R0.7 and TS2R4. They are recommended for use with the TS2R1.2 and TS2R6, since these systems include larger heating and cooling systems, capable of handling the bigger loads possible with these enlarged containers. The illustration on the above right shows the door removed from the chamber with two B12189R Carrier Baskets in place.
---
Test Load Ratings
The ability of a Bemco TS Series Rotary Thermal Shock Chamber to recover to the specified test temperature in the required time varies with the presentation of the test load to the circulating air in the chamber workspace.
Test load ratings also change with the Military Specification or test protocol, the test item density, and the test item's material composition. A chart presenting properties of some common test load materials and simplified techniques for computing system performance is contained in the standard TS Series Technical Bulletin.
Test load arrangement and test fixturing can greatly affect the results you achieve by testing. The optimum thermal shock test fixturing pattern presents all sides of each test load to the flowing chamber air. Test fixturing that requires stacking parts or placing them in basket containers more than a few parts deep should be carefully analyzed for thermal response.
The analysis of the response of a specific combination of load, chamber, and specification can get quite complicated. Since we specialize in this type of work, we have automated programs that perform a very rigorous thermal analysis of both your test load and our thermal shock chambers.
We are happy to provide this service to you at no charge. For evaluation of component parts, at least two ounces (0.125 pounds) of representative parts of each type you want us to look at are required for analysis.
---
Optional Equipment

The illustration on the left shows another Bemco exclusive feature, the optional door air deflector that increases airflow velocity through the test load cavity by 35% from an average of at least 10 feet per second (600 fpm) to approximately 14 fps.
Because the mechanism rotates only 180 degrees and then reverses, the TS Turboshock chambers are ideal for use in tests that require product electrical or fluid connections. In addition, standard baskets can be replaced by an adjustable shelf or tray holding fixture, a card cage, or other fixturing systems designed to hold your products or systems in place. The correct selection of these types options can be made in consultation with your Bemco Applications Engineer.
Available TS2R Options include:
Windows and interior lights in one or both compartments. Window size is 12" x 12".
A 1 inch ID rotating top tube that feeds both compartments. Attached wires, cables or fluid lines must have a service loop capable of rotating 180 degrees.
Access Ports in the side of any compartment. Standard sizes are 2", 3", 4" and 6."
Casters, four swivel type, with locks.
Extra cubical, open on top, perforated stainless steel carrier baskets (one is standard for each bay) for the TS2R0.7 (B12147) and the TS2R4 (B242412).
Extra half round, open on top, perforated stainless steel carrier baskets (one is standard for each bay) for the TS2R1.6 (B12189R) and the TS2R6 (B243216R).
A shelf support frame and adjustable wire type shelves for each bay with mounting clips.
Card cages with or without motherboards. This is a custom item that must be matched to your product.
LN2 boost cooling with vent for extra or back-up cooling on mechanically cooled systems.
GN2 gas purge with pressure regulator, gauge, flow measuring and regulating valved rotameter, and vent in each bay.
Desiccant drier purge with dual tower 10 cfm desiccant drier, pressure regulator, gauge, flow measuring and regulating valved rotameter, and vent piped to each bay.
For systems with mechanical refrigeration, two refrigeration gauges per compressor, four total, mounted in the refrigeration package available with or without isolation valves.
An automatic cold chamber defrost system including a defrost heater and a defrost timer.
A remote, air cooled, refrigeration system condenser for mounting by your qualified air conditioning contractor or Bemco factory technicians, up to 50 feet from the chamber, on a roof or outside your building.
A quiet package to reduce noise on either liquid nitrogen or mechanically refrigerated systems.
---
Optional Instruments
Controls are mounted on the side to prevent dripping from damaging the instruments. Available instruments include:
Microprocessor-based, FM Approved under-temperature safety control for a mechanically cooled TS system. FM Approved over-temperature safety controls are standard on all systems and under-temperature controls are standard on LN2 cooled chambers.
Remote control over an Ethernet Link.
A 12 inch, chart printing, two channel circular chart recorder.
A 2 channel strip chart recorder.
A system elapsed time meter.
A two channel digital temperature indicator.
A smoke alarm, one per bay, to monitor for problems with the test load.
A 10 inch nominal, touch screen HMI, (Human Machine Interface) coupled to an Allen Bradley PLC to replace the main system controls and switches. This system includes a main switch and an emergency stop button.
---
Available Literature Includes:

Bemco FS and TS Series, Vertical and Rotary Thermal Shock Chambers. Twenty four standard models of vertical 2 and 3 Zone and twelve standard models of rotary 2 Zone thermal shock chambers. Thermal shock heat transfer and test load rating calculations are discussed. Document is 12 pages, 766 KB download.
---
The systems described above are our Standard Models. We make custom equipment to your specifications. If you have any questions, need assistance in preparing a specification, or have a technical problem you want help with, we are ready. Our quotations and advice are free.