Altitude and Vacuum Chambers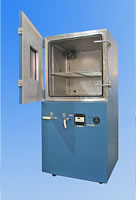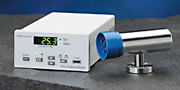 Bemco's acclaimed Altitude and Vacuum Chambers are designed to meet the need for a combination, easy to use altitude testing chamber, and ruggedly built vacuum processing facility.
Today's modern A series chambers feature another Bemco first, a standard Brooks Automation, Granville-Phillips Series 375 Convectron Gauge Controller. The Granville-Phillips 375 Controller provides accurate vacuum measurements from atmosphere to 1 x 10-4 Torr. This instrument features push button control and digital readout. With 1 Torr resolution at atmosphere (760 Torr) and 0.001 Torr resolution at low pressures, it provides industry leading measurement accuracy.
A close up of the Brooks Automation, Granville Phillips 375 Convectron Gauge Controller with its gauge tube is shown above. An industry standard that all similar gauges are compared to, this instrument includes individual gauge calibration by Granville Phillips, an easy to read 3 digit green LED display that automatically ranges, and optionally, an RS232 or RS485 interface.
An alternate is offered to provide a very accurate absolute pressure transducer combined with a display calibrated in feet of altitude. Click here to review our AI Display and Pressure Transducer Option.
---
Features
Standard chambers include:
A rotary vane, two stage, oil sealed vacuum pump with an oil mist eliminator and an automatic, power off, suction line dive valve to prevent oil back streaming.
Manual climb and dive valves.
A 304 Series stainless steel, 2B finish, continuously welded inner liner reinforced in accordance with Section VIII (Unfired Pressure Vessels) of the ASME Code.
A hinged aluminum plate door with a replaceable "O" ring type gasket (on the chamber side), with the door painted on the outside to match the chamber in Bemco Blue.
A carbon steel angle reinforced base enclosure and chamber outer case painted with rust preventive primer and a Bemco Blue finish coat.
Bemco's exclusive, easy to use, chrome plated, over center, cam type latches, two per door.
A KF type, 50 mm access port with a clamp and a replaceable blank cover plate.
Electrical switches for the vacuum pump and the controls.
Four swivel type castors.
| | | | | | | |
| --- | --- | --- | --- | --- | --- | --- |
| Model | A | B | C | D | E | F |
| A8S | 24" | 24" | 24" | 68" | 34" | 42" |
| A27S | 36" | 36" | 36" | 78" | 48" | 58" |
| A64S | 48" | 48" | 48" | 96" | 64" | 76" |
| | |
| --- | --- |
| Code | |
| A | Interior Height |
| B | Interior Width |
| C | Interior Depth |
| D | Exterior Height |
| E | Exterior Width |
| | Exterior Depth |
---