High Vacuum Components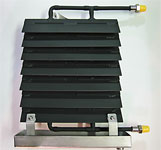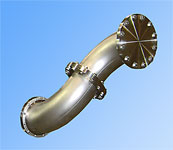 Besides offering integration of leading manufacturer's high vacuum products, Bemco makes many components for installation in both our own products and in other vendors equipment.
Bemco's high vacuum components are not just another copy, but are superior solutions for the application. They are precision engineered for a specific application where a more common vendor's part will not do, or they incorporate refinements not yet available in commercial products. A custom liquid nitrogen chevron insert for a trap and an eight inch diameter compound elbow are shown above.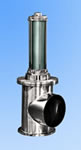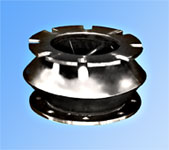 We also offer a standard line of both cold traps and right angle poppet valves. Shown at left is a Bemco PV10 Right Angle Poppet Valve and a Bemco MCT12 Round Cold Trap. The cold traps and poppet valves are all stainless steel except for the pneumatic piston. They are available in ASA flange, Conflat, and weld mounting.
Electropolish on poppet valves is standard. Cold traps are also electropolished to minimize LN2 consumption or the required size of a low temperature mechanical refrigeration system. They feature a positive creep barrier, are oversized for maximum conductance, and are optically dense. Standard sizes for ASA models are shown below.
---
PV Series Poppet Valve Models
| | | | | | | | | |
| --- | --- | --- | --- | --- | --- | --- | --- | --- |
| Code | PV6 | PV8 | PV10 | PV18 | PV21 | PV22 | PV32 | PV35 |
| A | 4" ASA | 6" ASA | 10" ASA | 16" ASA | 20" ASA | 20" ASA | 32 ASA | 35" ASA |
| B | 1250 | 2100 | 5300 | 21400 | 21400 | 25200 | 50000 | 60800 |
| C | Yes | Yes | Yes | No | No | No | No | No |
| D | 5.750 | 8.000 | 12.000 | 18.000 | 21.250 | 22.750 | 32.000 | 35.000 |
| E | 80-110 | 80-110 | 80-110 | 80-110 | 80-110 | 80-110 | 80-110 | 80-110 |
| F | Viton | Viton | Viton | Viton | Viton | Viton | Viton | Viton |
| G | 316 | 316 | 316 | 316 | 316 | 316 | 316 | 316 |
| H | KF25 | KF25 | KF40 | KF40 | KF50 | KF50 | KF80 | KF80 |
| I | Yes | Yes | Yes | Yes | Yes | Yes | Yes | Yes |
| J | Yes | Yes | Yes | Yes | Yes | Yes | Yes | Yes |
| | |
| --- | --- |
| Code | |
| A | Nominal Size, Inches |
| B | Conductance, Liters/Second |
| C | Seals in Both Directions |
| D | Flange ID, Inches |
| E | Air Pressure, Psig |
| F | O-Ring Material |
| G | Material, Stainless Steel |
| H | Roughing Port, Standard |
| I | Position Indicators |
| J | Electropolish Finish |
---
MCT Cold Trap Models
| | | | | | | | | |
| --- | --- | --- | --- | --- | --- | --- | --- | --- |
| Code | MCT6 | MCT8 | MCT12 | MCT18 | MCT21 | MCT22 | MCT32 | MCT35 |
| A | 4" ASA | 6" ASA | 10" ASA | 16" ASA | 20" ASA | 20" ASA | 32 ASA | 35" ASA |
| B | 800 | 1500 | 3500 | 11500 | 17500 | 20300 | 40000 | 48000 |
| D | 5.750 | 8.000 | 12.000 | 18.000 | 21.250 | 22.750 | 32.000 | 35.000 |
| E | 4.500 | 5.500 | 8.500 | 10.500 | 12.500 | 12.500 | 16.500 | 18.500 |
| F | Yes | Yes | Yes | Yes | Yes | Yes | Yes | Yes |
| G | 316 | 316 | 316 | 316 | 316 | 316 | 316 | 316 |
| H | Yes | Yes | Yes | Yes | Yes | Yes | Yes | Yes |
| I | Optional | Optional | Optional | Optional | Optional | Optional | Optional | Optional |
| J | Yes | Yes | Yes | Yes | Yes | Yes | Yes | Yes |
| | |
| --- | --- |
| Code | |
| A | Nominal Size, Inches |
| B | Conductance, Liters/Second |
| C | Flange ID, Inches |
| D | Overall Height, Inches |
| E | Positive Creep Barrier |
| F | Material, Stainless Steel |
| G | Optically Dense |
| H | LN2 Level Controls |
| I | Electropolish Finish |