Roll-in, Cart Loaded, Stress Screening Chambers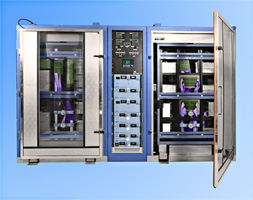 Pre-loaded and electronically fixtured carts are easily rolled into a Bemco KDL, Burn-in or Rapid Temperature Cycling Chamber. All models in this series are modular. They are designed to be placed together to form up to a six bay testing facility with a control console between every two bays.
The Bemco KDL series is designed for production testing of electronic circuit boards and completed electronic systems. They accept Bemco KDLC Carts that have a working area of 42" wide by 60" high by 48" deep suspended on insulated runners and casters 11 inches above the test area floor.
KDLC Carts are available as shelf carriers with four stacks of 20" x 20" wire type shelves, adjustable on 3/4" increments, as load carriers, or as card cage carriers that support four stacks of standard 19" relay rack style card cages. Load carriers are normally specified to allow convenient testing of large solid objects normally tested in walk-in chambers.
Custom carts, connectors, load boards, card cages, connector arrays, bus bars, and fixturing systems optimized to match your specific requirements are available.
---
Construction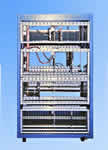 The exterior equipment and the control apparatus are neatly packaged in a sheet metal enclosure painted Bemco Blue or optionally from 300 Series stainless steel so that they can be flush mounted through a wall or aligned with a narrow walkway.
In the same manner as the KDR Koldburn chambers, the KDL Cart loaded chamber uses a specially fabricated temperature controlled heated frame door with a conductively heated multi-pane glass window to provide a clear view of the entire workspace.
Each bay floor has two slots to allow flush loading of KDLC Carts without having to use a ramp. Each bay also includes provisions for installation of manual or automatic cart electrical, pneumatic, or hydraulic fixturing connectors at the rear of the workspace.
KDL chambers include an angle reinforced carbon steel outer case and a heliarc welded 304 Series stainless steel inner liner with high temperature fiberglass insulation. No asbestos is used. Duct-work and baffles are also fabricated from 300 Series stainless steel. Service access in from the rear.
| | | | | | | | |
| --- | --- | --- | --- | --- | --- | --- | --- |
| Model | Bays | A | B | C | D | E | F |
| KDL1 | 1 | 68" | 48" x1 | 50" | 88.1" | 86" | 94.5" |
| KDL2 | 2 | 68" | 48" x2 | 50" | 88.1" | 142" | 94.5" |
| | |
| --- | --- |
| Code | |
| Bays | Number of Workspace Bays |
| A | Interior Height |
| B | Interior Width |
| C | Interior Depth |
| D | Exterior Height |
| E | Exterior Width |
| | Exterior Depth |
KDL Table Notes:
Standard temperature range is -20 C to +94 C for each bay.
Each bay has an independent conditioning system with a local or remote refrigeration system, a temperature control, and a heating system.
All bays are separate and may be operated independently on their own program.
Groups of chambers, of any number, can be arranged side by side. These groups are separated into two chamber sections with a conditioning and product fixturing package in the middle. If larger groups are desired, we recommend a 6-inch wide spool piece between groups of two chambers to prevent chamber cross-talk.
Overall width given includes a 30" wide machinery compartment.
Glass doors are of the overlapping type and each includes a dual latch and connecting bar release.
Each bay door has a clear open loading area through the door of 48" wide by 68 " high.
---