PAO-II's Include:

Although invented in the 1930's PAO's use as a heat transfer fluid is comparatively modern. Bemco's second generation PAO-II Chiller incorporates all of the advanced features of the PCL-III Liquid Chiller with the additional equipment needed to reliably handle PAO fluid in an industrial or aerospace environment.
Packaged in a rugged, angle reinforced carbon steel case painted Bemco Blue, PAO-II Chillers have a built-in stainless steel pan to contain smaller spills.
Heaters are interlocked with a separate heavy duty power contactor and a factory preset high temperature safety control. All electrical wiring meets the United States National Electric Code. UL and CSA approved components are used where possible.
---
Fluid System
The standard Bemco PAO-II fluid circulating system includes a magnetically sealed, positive displacement gear pump capable of producing rated flow at 50 psi between the supply and return connection.
The fluid system includes: shutoff valves, a bypass modulating valve to allow system preconditioning, discharge and suction pressure gauges, a relief valve to protect the pump, and a relief valve to protect the system from over pressurization.
The system also has a fluid reservoir with a sight glass to monitor fluid level as well as a nitrogen gas pressurization system to prevent boiling, water condensation, and to allow the fluid to expand and contract with temperature. Discharge and suction pressure switches protect the system. A small micron size particulate and water absorbing filter in a manually controlled bypass loop is provided to allow preconditioning of PAO fluid on system startup. Test ports at strategic locations throughout the system are standard.
---
Cooling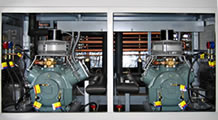 Mechanically refrigerated systems include a proportionally controlled cascade, two compressor, refrigeration system utilizing modern, environmentally friendly refrigerants to cool the circulating fluid. The system includes automatic hot gas bypass and suction cooling unloading as well as Bemco's exclusive high performance coaxial cascade heat exchanger.
All systems are water cooled, have thermal and current sensors on each compressor, and feature numerous safety and reliability protection systems for dependable operation.
For liquid nitrogen (LN2) cooled systems, fluid temperature is reduced by a proportionally controlled liquid nitrogen injection system and a heat exchanger utilizing both a control solenoid and a series mounted safety solenoid to positively interrupt nitrogen flow in the event of a malfunction. A relief valve and a line strainer are provided for dependable operation. A self-sealing vent system with an attachment coupling for remote piping by others, removes expanded nitrogen from the heat exchanger.
---
Controls
Each PAO-II includes a microprocessor based, programmable 1/4-DIN, solid state 256-step ramping controller which includes a 4-line LCD interface display and a large red LED display.
An RS232 and RS485 interface is standard. The protocol is Modbus™. LabVIEW™ drivers are available.
A Factory Mutual Approved high and low temperature safety control with audible and visual alarm is included at no extra cost.
---
Mechanical Options
300 Series stainless steel exterior construction. See the first picture on the PCL Portable Chiller page for an example.
Micron sized, large desiccant and particulate filters in the return flow with isolation valves, a bypass valve, a differential pressure gauge, and a bypass solenoid to filter the system flow and remove entrained moisture if present. Dual sets are sometimes specified for continuous system operation.
A micron sized filter in the supply flow with isolation valves, a bypass valve, and a differential pressure gauge to remove contaminants in the supply flow.
An automatic pressure regulation bypass valve to maintain discharge pressure at a preset value.
A manual three-way reservoir bypass valve to allow captured gas bubble relief on initial connection to a load.
Automatic flow isolation solenoid valves.
Self sealing quick disconnect fittings.
Automatic flow modulation valves with automatic bypass modulation.
Fluid sampling ports to allow evaluation of fluid quality.
Outdoor fluid enclosures mounted on over-the road truck running gear with inflated tires and Ackermann (the front wheels turn with the yoke) steering.
Field generator sets to allow operation without a source of electricity. Please note that these systems are usually specified with an air cooled refrigeration system.
Dual heat exchanger loops, tanks, one for hot and one for cold with automatic mixing valves to allow a smooth rapid thermal transition between systems for temperature cycling between extremes.
---
Optional Instruments
24 hour or 7 day, digital indicating, self chart printing, circular recorders for temperature.
Single pen or multi-pen strip chart recorders.
Programmable logic control sequencing of test processes or fluid system sequencing including totally automatic control of all system functions. Displays can include calibration and maintenance screens and graphic representation of the equipment. Bemco recommends Allen Bradley (ABB) PLC's and software.
Touch screen HMI's (Human Machine Interfaces).
RS232, RS485, and Ethernet communication interfaces.
Digital liquid flow meters, either indicating or totalizing, calibrated in gpm.
Flow meters to indicate total system mass flow.
Automatic low and high level sensing and alarm in the fluid reservoir.
Automatic level sensing transducers in the fluid reservoir.
Low and high flow switches with audible and visual alarm and electrical interlocks.
Low and high pressure switches on the system discharge or suction line to protect the test item.
Precision pressure transducers on the fluid discharge and suction lines interlocked with display devices or system process controls.
Graphic display of control switches, system processes, set points, actual values, and status.
---
Fluid Distribution Panels


Optional fluid distribution panels and fluid control panels are offered to individually distribute, monitor, and protect one or more of your valuable products from higher than required flow or process conditions.
You can also use these units with any other source of temperature controlled fluid including other manufacturer's products. These systems are individually assembled to match the equipment being tested. They can be designed for mounting in standard Electronic Industries Association (EIA) 19" or 24" relay rack consoles or as free standing, wall, table, or floor mounted systems. A separate Web page describes these units. Please click here.
---
Available Literature Includes:

Bemco PCL and PAO Series, Portable Liquid Chillers and Polyalphaolefin (PAO) Liquid Chillers. These units provide a flow of temperature controlled fluid or Polyalphaolefin liquid. Nine standard circulating fluids including d-Limonene, FC77 Flourinert, Galden, Lexol 408, Paratherm CR, Coolanol and PAO. Eight standard model Portable Liquid Chillers and ten standard model PAO Carts. Fluid distribution panels are also discussed. Document is 8 pages, 651 KB download.
---


The systems described above are our Standard Models. We make custom equipment to your specifications. If you have any questions, need assistance in preparing a specification, or have a technical problem you want help with, we are ready. Our quotations and advice are free.