Walk-in Humidity Systems
Bemco Integral and Modular Walk-in and Drive-in Environmental rooms are available with a number of different humidification and dehumidification systems.
The maximum humidity range offered over the temperature range of 5 C to 85 C is 5% RH to 95% RH with the ability to reach 5% RH at the low end requiring a very tightly sealed system with desiccant dehumidification combined with, a drained vapor generator, a drained mass transfer system, or a steam generator for humidification. A more usual specification is 20% RH to 95% RH limited by a 5 C dew point and an 85 C maximum dry bulb temperature. This specification is achievable with mechanically cooled dehumidification and a standard vapor generator.
On Bemco systems, the humidity conditioning system selected is optimized to the required process conditions.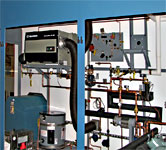 The common definition of Relative Humidity (RH) is the ratio of the partial pressure of water vapor in a gaseous mixture of air and water to the saturated vapor pressure of water at the same temperature. Bemco chambers include a direct reading Percent RH sensor that utilizes a dielectric polymer film, sensitive to vapor pressure, to monitor and control humidity. These sensors are electronically compensated for temperature variation.
Bemco recommends the use of softened water rather than deionized or distilled water with all humidity systems. Prior to selecting a water demineralization system, we suggest that you contact a local water conditioning company for a survey of your laboratory's available water supply.
The selected filtration system should remove all ionized contaminants, except free carbon dioxide and silica, and produce water with a resistance of over 20,000 ohms/cm3 but less than 50,000 ohms/cm3. These systems are sometimes described as a "Two Bed, Weak Base" system. The capacity required and the expected life between regenerations varies with the hardness of your water. Once you have determined your local water conditions, an optimum solution can be chosen in discussion with your Bemco Applications, Engineer.
Some of the standard Bemco systems available for humidification are:
| | | |
| --- | --- | --- |
| Humidification System | Advantages | Disadvantages |
| Vapor Generator | Lowest cost, best with small systems | Hysteresis, continues to humidify |
| Steam Generator | Precise control, high capacity to humidify | Higher first cost, adds superheat |
| Spray System | Very high capacity, best with large loads | Over spray on walls, medium first cost |
| Mass Transfer | Lowest energy input, very precise control | Hysteresis, continues to humidify |
Some of the Bemco standard systems available for dehumidification are:
| | | | |
| --- | --- | --- | --- |
| Dehumidification System | Low Dp | Advantages | Disadvantages |
| Refrigerated DH Coil | +3 C | Lowest cost, best with small systems | Hysteresis, continues to dehumidify |
| Pressurized Dry Air Injection | -73 C | Precise control, very low dewpoint | Utility cost, adds thermal load |
| Rotary Desiccant Drier | -60 C | High capacity, best with large flows | Utility cost, adds large thermal load |
| Loop Cooling to Dewpoint | +3 C | Controlled dewpoint process | Highest first cost, limited low humidity |