Walk-in Modular Chambers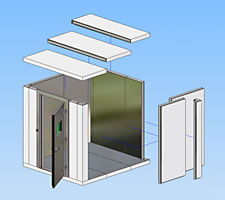 Prefabricated chambers, rooms, and drive-in facilities, made from sectional panels, can be constructed in any size ranging from the very small to the extremely large. They are often a first choice when there is restricted access to the final assembly location or when initial cost is an important consideration.
We manufacture a complete line of both prefabricated modular chambers, assembled from sectional panels on site, and welded integral chambers discussed on a separate web page on this site. Integral chambers are factory preassembled and made in one to six pieces for permanent installation at your facility. Individual piece size is limited by USA over-road shipping constraints. Very large systems can be fabricated. Information on our Integral Chambers can be viewed here.

Limited by the ability of urethane foam to withstand the desired environment, our FL-M Series of Modular Prefabricated Chambers are able to meet all of the specifications presented in our technical bulletins on our standard F, FNR, FHC (Temperature) and FW (Temperature-Humidity) series of environmental chambers. Custom and unusual combinations of environments are also available including, rain, solar, wind, sound, and many others. Modular chambers are not available for altitude or vacuum testing due to the requirement for wall reinforcement. They can be used as the outer thermal shield to prevent surface condensation on thermal shrouds cooled by Bemco PCL-V, Fluid Chillers or Bemco HPG, High Pressure Gas Conditioners and they can serve as a thermal enclosure for Bemco PTS-III Portable Temperature Servo Conditioners.
Modular construction is often used for drive-in rooms intended for testing automobiles. These facilities can include dynamometers, wind simulation, air nozzles, bypass air systems, product monitoring systems, sprinklers, high volume desiccant dried outside air supplies, and advanced instrumentation systems. Modular systems are also sometimes selected for multi-chamber calorimeter testing of air conditioning systems and air circulation devices.
---
Construction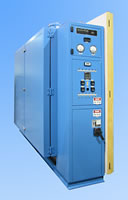 Bemco modular prefabricated chambers are assembled from sectional panels using metal inner and outer skins bonded to a core of rigid polyurethane insulation. At least three heavy duty cam-action locks are provided on each side panel.
Chamber size is unlimited, however, exact room dimensions must conform with the sectional panel sizes offered. These panels come in 11-1/2", 23", and 46" standard widths in various heights. Rooms can be constructed as large as needed and can include partitions and antechambers.
Standard chamber access doors include a heated frame, a window, and an in-fitting or flush main door to positively seal the workspace. Large equipment loading doors are constructed by Bemco using integral welded chamber construction techniques to maintain alignment and structural rigidity.
Chamber wall interior and exterior surfaces can be made in any combination (one per side) of bright galvanized steel, stucco embossed aluminum, 300 Series stainless steel, or white baked enamel on steel. Chamber floors are reinforced to withstand a minimum of 500 pounds per square foot. Higher ratings are available. Floors, made from heavier gauge materials, can be made from galvanized steel, smooth aluminum or 300 Series stainless steel. Insulation is offered in 3", 4", 5" and 6" thicknesses of foamed in place urethane foam. We normally select the most suitable thickness unless you specify a preference.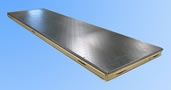 Chamber floors can be furnished for installation in a depression so that they are flush to your building floor. FL-M chambers can also be fabricated without floors for installation on your smooth, sealed concrete, surface when specified internal conditions allow. In addition, floors can be installed over pits (for use with a dynamometer for instance) and can be fabricated using Bemco FL-I Integral Chamber construction techniques or built-up from high density foam materials to support very large point or average loads.
Conditioning systems, including the air circulation, local refrigeration equipment, heat exchangers, heaters, electrical apparatus, baffles and process controls are commonly factory pre-assembled to one or more of the chamber's wall panels and shipped as a convenient, ready to install on site assembly. An example is shown above.
These chambers can be erected by a local industrial air conditioning contractor you select, or by Bemco's skilled field installation and service technicians.
| | | | | | | |
| --- | --- | --- | --- | --- | --- | --- |
| Temperature | Cooling | Heating | Gas | Temperature | Humidity | Altitude |
| Range, C | Method | Method | Inside | Available | Available | Available |
| -35 to 90 | 1 | Electric | Air | Yes | Yes | No |
| -70 to 90 | 2 | Electric | Air | Yes | Yes | No |
| -70 to 90 | 3 | Electric | Air | Yes | No | No |
| -70 to 90 | 4 | Electric | GN2 | Yes | No | No |
| -50 to 90 | 5 | Electric | Air | Yes | Yes | No |
| | |
| --- | --- |
| Cooling | |
| 1 | Refrigeration, Single Stage |
| 2 | Refrigeration, Cascade |
| 3 | LN2 Heat Exchanger |
| 4 | LN2 Direct Injection |
| 5 | Fluid "Brine" System |
---